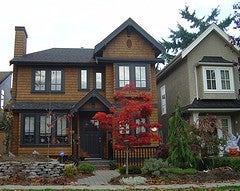 Buying property in Canada is very easy for expats and a viable option for those living in the country long-term. Canada has an open-door policy for foreign property ownership, and affordability is also an attractive feature, as Canadian housing prices are generally lower than other comparable global countries.
When it comes to buying or owning property in Canada, non-residents have the same rights of ownership as residents and citizens of Canada. From a residency point of view, if you plan to stay in Canada for six months or less each year, the government considers you a non-resident, which means you can still open a bank account and buy property. If you plan to live in Canada for more than six months per year, you must apply for immigrant status.
The current housing market in Canada is definitely a buyer's market. Home prices have been dropping, even in larger cities such as Vancouver and Toronto. Many expats buy a second home in Canada as a destination retreat. Since Canada is such a large country there are many options for expats; from the East Coast, to Central Canada to the West Coast. Toronto and Vancouver are the most expensive cities in which to purchase property, but there are many other cities such as Calgary, Montreal, Winnipeg, Saskatoon, and Northern Ontario to choose from.
For foreigners not currently living in Canada it may be wise to engage a lawyer or notary public in your home country to assist with the paperwork involved from the Canadian banks and Canadian realtor. An international real estate lawyer with a thorough understanding of Canadian real estate rules would be an ideal choice.
Where to start looking for property in Canada
Decide on your location city and type of home you would like. Take into consideration the many different climates across Canada when you decide on a city to purchase in. The choices are detached home, attached townhouses or condominiums (apartments). There is a wide range of choices within these groups so narrow your criteria to number of bedrooms, baths and amenities. Searching online to get an idea of available properties can be done at realtor.ca. This site is Canada wide and is a great starting point to become familiar with the Canadian housing market and your city. Other good sites to search for properties include kijji.ca and Craiglist.ca.
Properties are also advertised in newspapers; local community papers have weekly real estate sections which advertise local properties, but these are not normally as comprehensive as online.
Financial considerations for buying property in Canada
For a non-resident, financing is available at 65 percent of the purchase price with 35 percent as a down payment. Expats need to apply directly to the bank for the loan and qualifying for the mortgage financing requires interviews via phone, fax and email to gather personal information which includes assets/liabilities, income verification, tax returns and credit information. Foreign banks cannot register mortgages in Canada, so any mortgage would have to be raised by a Canadian mortgage broker or bank. The borrower will require the services of a Canadian lawyer or notary public to prepare the mortgage documents and registration at the land titles office.
In order to determine the mortgage amount you need to borrow be aware of all closing costs, including:
Purchase price
Property transfer tax – paid by the buyer at 1 percent of the first 100,000 CAD, and 2 percent on the balance
Bank appraisal fees (not always required) – Usually around 500 CAD
Inspection fees – Between 500 and 600 CAD
Insurance costs – Vary depending on the property and the policy required
Closing legal fees
Steps to purchasing property in Canada
The purchasing process is the same across all Canadian provinces, and the transfer process usually takes between 60 and 90 days. If the property is vacant it could be closed within a month.
Find a local realtor, to begin the personal search for you. Realtors are licensed real estate professionals who will prospect for you, act as a negotiator upon your behalf with the seller's realtor, and advise in the completion of the transaction. Your realtor will represent you and will act on your behalf to locate the best property. Fees for your realtor are paid by the seller upon completion of the sale of the property.
Get prequalified for your mortgage from the bank so you know exactly how much you can afford and can then narrow the properties list down.
Have your local realtor preview all properties, with you if possible, to locate the most suitable home for you.
Once you have located the property you wish to purchase, have your realtor write a contract of sale and purchase agreement, sign the contract and have your realtor present the contract to the seller's realtor. Include in your contract a land title search check and a home inspection as conditions to be approved by you before transfer of funds to purchase the home.
Have your realtor contact the appointed Canadian real estate lawyer or notary public for conveyancing of mortgage, transfer of monies and your registration on the property, upon your signed removal of the subjects in the accepted and signed contract of sale and purchase.
Move in on possession day and enjoy your new home in Canada.
Source:
http://www.expatarrivals.com/canada/buying-property-in-canada